Reflecting on the unique relationship between the historic married couple — composers and musicians Robert and Clara Schumann — the New York Philharmonic (NY Phil) will present a series of orchestral, chamber, and contemporary music works.
Between March 6 to 20, the event's performances will be taking place across New York's venues such as Lincoln Center, Alice Tully Hall, and 92nd Street Y.
From March 9–12 and 17–20, Gustavo Dudamel will be conducting the NY Phil in Robert Schumann's Symphonic Cycle plus the NY Phil commissioned world premieres by Gabriela Ortiz and Andreia Pinto Correia.
Titled Clara, Ortiz's new work was inspired from a diary entry by Clara at age 20, who wrote: "I once believed that I possessed creative talent, but I have given up this idea; a woman must not desire to compose — there has never yet been one able to do it. Should I expect to be the one?"
Clara is a tribute to the extraordinary woman and an acknowledgment of her talents. Ortiz also channels those women in history who have challenged the status quo of their various eras through artistic expression.
Pinto Correia's commission is titled Os pássaros da noite (The Birds of Night) and is based on a letter Robert Schumann wrote to his friend Johann Verhulst: "The melancholy birds of night still flit round me from time to time, yet they can be driven off by music."
In several different ways, Pinto Correia works to transmit coded messages, in a similar way to how Robert and Clara communicated with each other through their own compositions.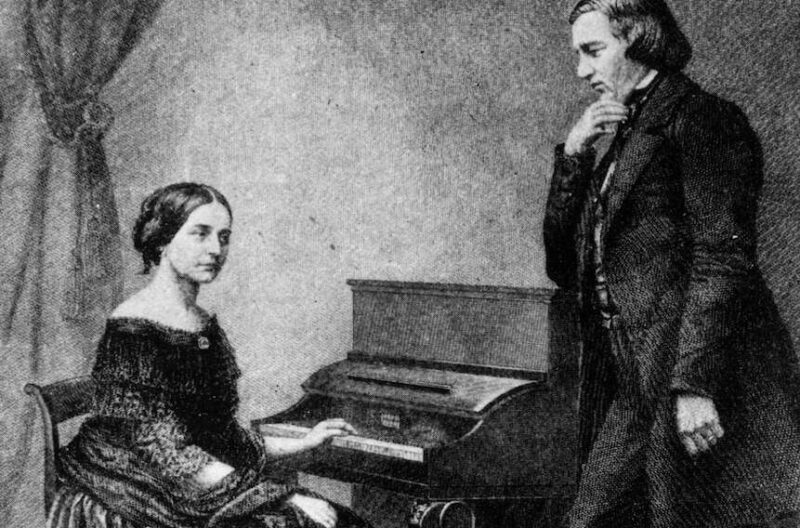 On March 6, NY Phil musicians, principal associate concertmaster Sheryl Staples, associate principal viola Rebecca Young, and cellist Patrick Jee, will join pianist Gilles Vonsattel in a chamber music concert featuring three works by Clara Schumann alongside those of Beethoven and Brahms.
SoundON, NY Phil's contemporary chamber series, will present, on March 14, works reflecting on modern-day creative partnerships by composers and their musician-colleagues, partners, and spouses, including Wang Lu and Anthony Cheung; and Michael Gordon, David Lang, and Julia Wolfe.
"When I think about Schumann's music, I am always amazed anew by the creativity, the melodic inventiveness, the virtuosic counterpoint, and the countless other ways he was able to paint with the palette of an orchestra," said Dudamel in the press release.
"And of course there is the deep romanticism, inspired by his wife and muse, Clara," he continued. "But she was so much more than that — a groundbreaking pianist and composer in her own right — and so we wanted to also present the world premiere of new works exploring the couple and their connection, written by two equally extraordinary voices: Gabriela Ortiz and Andreia Pinto Correia. To hear the symphonies performed together, alongside these new works, will truly be a journey for both the players and the audiences!"
To purchase tickets and attend "The Schumann Connection," click here.
The post The New York Philharmonic to Present "The Schumann Connection" appeared first on The World's Leading Classical Music News Source. Est 2009..