This Week in Classical Music: August 31, 2020. Cornucopia. Last week was rather disappointing, we had to go back several centuries to find a composer of interest, but look how different it is this week. Of the first-rate composers, the oldest is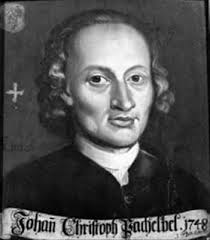 . Yes, he was absolutely first rate: not just the author of the ubiquitous Canon but the composer of the influential Hexachordum Apollinis, a wonderful collection of tkeyboard music. Please check out our library, we have all six Arias with variations there. Pachelbel was born on September 1st of 1653.
Pietro Locatelli, an Italian Baroque composer and violinist, was born on September 3rd of 1695. Not a great figure in the history of music, but some of his violin sonatas and concerti were pleasant. And then, a very different figure, Anton Bruckner, one of the greatest composers of the 19th century, sometimes underappreciated but at the peak of recognition these days – and rightfully so. Bruckner was born on September 4th of 1824.
Jumping forward: Darius Milhaud. He was also born on September 4th, of 1892. A member of Les Six, he wrote in many different styles, from jazz to polytonality. As a Jew, he had to flee France during the occupation and spent several years in the US. Here's Milhaud's Quartet no. 15, op. 291 performed by the Quatuor Parisii.
Moving on, or for the moment back, here's Johann Christian Bach, the eighteenth (yes, eighteenth!) offspring of Johann Sebastian Bach; by the time he moved to England and became famous there (he would be called "the London Bach" or "the English Bach"), around 1766, only seven of his siblings were still alive. Johann Christian, born on September 5th of 1735, was the youngest of Johann Sebastian's composer kids. He did much to further the new "Classical" style.
And that's not all: Giacomo Meyerbeer, Amy Beach, and John Cage were also born this week. That makes three centuries of music, from the late 17th to the second half of the 20th.
That is as far as the composers go, but then there are three conductors,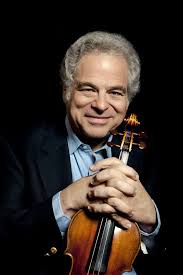 Tullio Serafin, Leonard Slatkin and Seiji Ozawa, all born on September 1st: Serafin, a great opera conductor, in 1878, Ozawa in 1935 and Slatkin in1944. But that's not all: Itzhak Perlman also has his birthday this week. Can you imagine that he's going to turn 75? Perlman was born on this day in 1945. You may have your qualms, but all in all he is one of the greatest violinists of the end of the 20th century. Nobody matched the beauty of his tone when Perlman performed at his best. Here's Perlman and Vladimir Ashkenazy playing Beethoven's Violin Sonata No. 4 in A Minor, Op. 23.